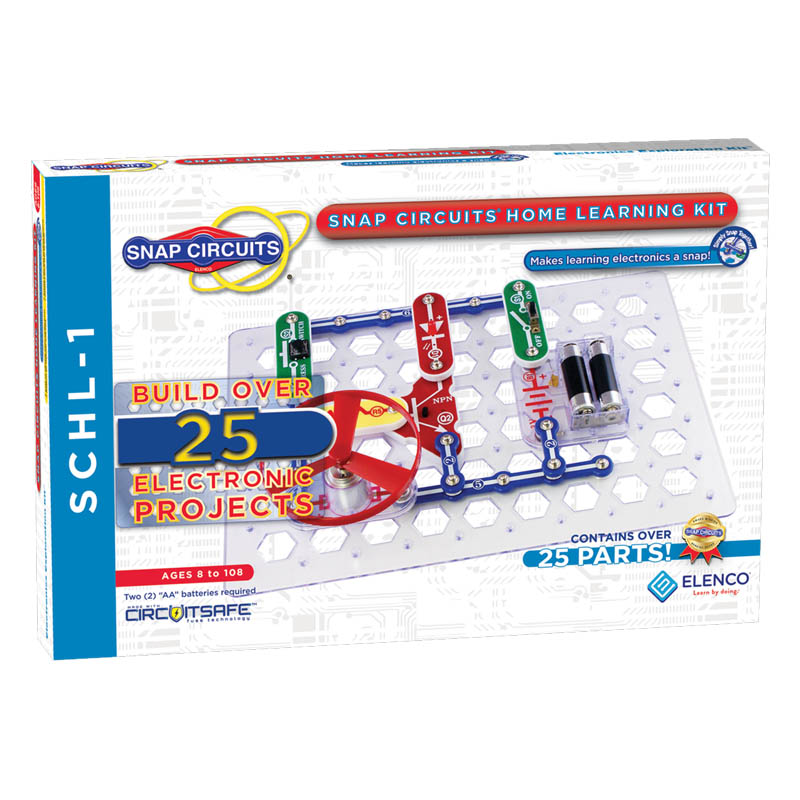 Roll over image to zoom in
SNAP CIRCUITS HOME LEARNING KIT BUILD 25+ ELECTRONIC PROJECTS
$49.95 $14.95 CAD

Availability:
1599 in stock
Stock and Aisle Location
#
Store
Qty
Aisle
Burlington
296
Cambridge
17
Markham
38
Mississauga
65
Scarborough
60
Vaughan
25
Warehouse
1098
---

The manual of Snap Circuits® Home Learning emphasizes the practical applications of electronics. This set is as much about science as about electronics. It teaches how to conduct a scientific investigation, and the activities develop basic skills needed in today's world.
As a result of completion of activities 1 - 30 in this kit, students will:
Understand basic information about electricity as a form of energy
Control the flow of electricity through several circuits and device
Identify the path of electricity through a circuit
Repair a non-functioning circuit
Transform electrical energy into light, sound, and motion
Identify series and parallel circuits
Determine if materials are conductors of electricity or insulators
Observe the effect of resistance on the brightness of a bulb or LED
Study the motion of a motor
Produce and study sound from a speaker
Draw and label circuit diagrams
Build a Morse Code sender (telegraph using light instead of sound)
Send and receive messages in Morse code, and decode messages received
Observe the effect of fluorescent light on a spinning disc
Observe the effect of electricity on a temporary magnet (electromagnet)
Use a transistor to switch devices on or off
Make a circuit that detects the presence of water
Have a better understanding of the scientific method of investigation
---
For ages: 8+
Includes 25 parts with a downloadable manual with introduction, 30 activities and quiz.
Requires 2 AA batteries, sold separately.
Part No

SCHL-1

Manufacturer

ELENCO ELECTRONICS

Stock No

2011-CK3

SKU No

260538
To purchase bulk quantities, Please contact our Sales Department
(+1-416-494-8999) or email shop@sayal.com
Featured

Items

you may like
SPECIALLY PICKED FOR YOU