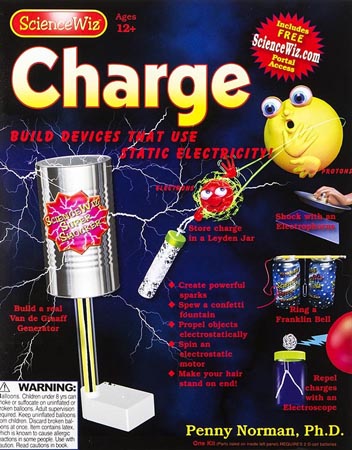 Image is for illustrative purposes only. Please refer to product description.
SCIENCEWIZ CHARGE-BUILD A REAL VAN DE GRAAFF GENERATOR
Stock Details
| # | Store | Qty | Aisle |
| --- | --- | --- | --- |
| | Markham | 1 | |
---

Build your very own Van De Graaff generator and learn the science behind it!


The illustrated 40-page instruction manual explains difficult concepts in a way that is easy for young scientists to understand.
Build 6 different devices to explore CHARGE!
Build a hair-raising Van de Graaff Generator
Detect charge with an electroscope
Store charge in a Leyden jar
Spin an electrostatic motor
Transport charge with an electrophorus
Ring a Franklin bell
Complete 15 activities with these devices:
Spew a glitter fountain
Make your hair stand on end with electrostatic CHARGE!
Generate large sparks with an electrostatic generator
Spin an electrostatic motor
Explore and detect plus and minus charges
Propel objects with an electrostatic generator
Requires 2 D cell batteries (not included) and a few common household items will be required to build some of the devices in this kit.
Author's Comment: This kit includes the parts for building a real Van de Graaff Generator. For best results use both good grounding and low humidity.
BE SURE TO ENTER the Portal to Discovery to explore the large range of activities you can do with this electrostatic device.
---
Part No

7814

Manufacturer

SCIENCEWIZ

Stock No

3527-NG1

SKU No

239121
Limited Stock

Available To purchase, Please contact our Sales Department
(+1-416-494-8999) or email shop@sayal.com
Featured

Items

you may like
SPECIALLY PICKED FOR YOU