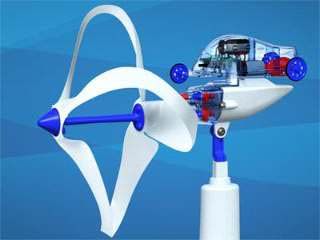 Image is for illustrative purposes only. Please refer to product description.
LOOPWING WIND POWER GENERATOR.
Stock Details
| # | Store | Qty | Aisle |
| --- | --- | --- | --- |
| | Burlington | 1 | |
| | Markham | 1 | |
---

This educational assembly kit lets you explore the mechanisms involved in harnessing the alternative energy of wind power. The distinctive loopwing design can be rotated by the slightest breeze and will accumulate enought energy to power the motorized car connected to the top of the unit. The car with its movable front wheel may be set to run in a circle, allowing users to witness the conversion of wind power into working electricity before their very eyes. Two types of gears can be selected to allow generation of higher amounts of power depending on wind speed. Stand features built-in weight to keep the unit steady on a flat surface. Stand also features grip so that it may be held in the hand while running to generate wind power. The rechargeable vehicle runs for 1-2 minutes for each 5-10 minute of charge. Special loop wing design secures high efficiency in power generation by ensuring that even a minimum amount of wind will produce quick rotation of the windmill. Two types of gears allow choice of double gear for a light wind, and triple gear for a stong wind, improving power generated by the motor depending on wind strength. Low-friction connectors ensure smooth rotation by wind and efficient power generation.
---
Loopwing rotor 220mm in diameter.
Part No

75021

Manufacturer

TAMIYA

Stock No

1521-GJ1

SKU No

212572
Limited Stock

Available To purchase, Please contact our Sales Department
(+1-416-494-8999) or email shop@sayal.com
Featured

Items

you may like
SPECIALLY PICKED FOR YOU